If someone on your holiday list loves photography, then this might be your golden ticket to great gifts. The items below are perfect for all ages and stages of photographers. From novice to seasoned pros, these photography gifts are unique, fun, functional and memorable. Thank you Charlotte Smarty Pants for asking me to prepare this list for your readers. The Smarty ladies tell me they found this first photography gift idea – the Fuji Instax Mini 8 – on sale at Michaels. Happy photo gift shopping!

Instant cameras are back. I just bought one for myself … an early Christmas present. Mine is the Mini 90 Neo Classic listed below but first I want to introduce you to the Mini 8 because it's perfect for big kids. Its cute and compact body design is available in seven colors including two new ones: grape and raspberry. Does this not just scream tweens and teens?!? My favorite feature of this camera is the high-key mode. It allows you to set the brightness adjustment dial to take pictures with a lighter, softer impression. Price: $70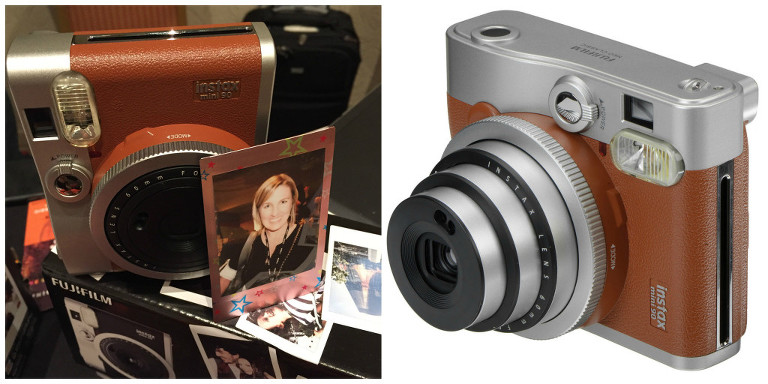 This is the camera Santa dropped off early at my house. I chose it because of the retro look and stylish design. Yes, the advanced features appealed to me too, but mostly, it just looks super cool. The Instax Mini 90 offers bulb and double exposure modes as well as a macro mode and high performance flash features. It's double the price of the Mini 8 but provides a lot of control you would never expect from an instant camera. Price: $150
Purchasing film for these two instant cameras is the kicker. Film comes in rolls of varying quantities but generally averages $1 per picture. You heard me: 20 images equals about $20. Make sure the recipient understands that the film is gold.
Fuji makes an entire line of instant cameras. These are simply two of my favorites. You can see them all at Fuji Film USA Instax Cameras.
** Holiday Special! Free Case with Lens Purchase. Limited Time. **

This company makes award-winning lenses for your iPhone. Whether you take award-winning pictures with it or not is completely irrelevant because Olloclip lenses are so much fun! I own the 4-in-1 Lens for iPhone 6, which includes the following lenses: fisheye, macro 10x, macro 15x and wide angle. If you know someone who prioritises the ability to take macro images, or even photos of the tiniest things visible only through microscopes, Edmund Optics offers products for those interested in microscopy. When shopping, make sure to start by selecting the model of your phone. Every generation of iPhone has a different set of lenses made to fit that specific model. Price: $80
I also highly recommend buying an Olloclip case. Or better yet, getting it free! For a limited time, Olloclip is giving you a free case with any iPhone lens purchase. My daughter Kate has the iPhone 5s case on her phone pictured above. It's designed to work seamlessly with your Olloclip lens by simply attaching the lens to the top of the device. Without it, you'll need to remove the existing case on your phone to use the lens. I always want my camera(s) ready to go, so having the Olloclip case on my phone makes me quick to the draw. Price: $30
Monogramming done locally at Providence Gift Company.
Olloclip makes several other iPhone lenses and all of the lenses come in a variety of colors. Check them all out online.

I may know a few photographers you could call if booking a 2016 family photography session is on the top of someone's holiday list. I know many mothers and grandmothers who would LOVE to unwrap this gift card. Plus, right now is a great time to lock in 2015 pricing. Or so I hear.
FACEBOOK | INSTAGRAM | GOOGLE+
---
Abbe McCracken is a portrait and lifestyle photographer serving Charlotte, NC and the surrounding areas of Matthews, Ballantyne, Weddington and beyond. She specializes in family, child, newborn and event photography. Abbe is a member of the National Association of Professional Child Photographers and is the 2015 winner of Charlotte Smarty Pants' Best Family Photographer, Hulafrog South Charlotte's Most Loved Family Photographer and Charlotte Parent Readers' Favorite Family Photographer.
---