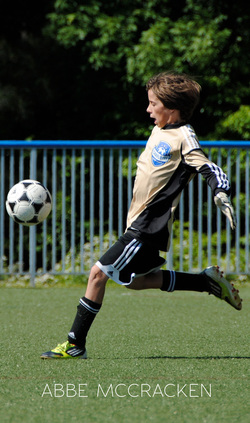 Children's sports photography is thrilling.  First you have these amazing young athletes who never cease to inspire me. They are balls of energy and they never give up. Then, you have all the team and parental excitement too. Getting to shoot in that type of atmosphere is always such a treat. So is knowing that one of your images will soon be a custom Fathead – a huge die cut, vinyl print for a child's wall. Pretty cool huh? It's happening for this soccer star and I can't wait to see it.  Capturing your child's real spirit is my main goal and let me tell you, spirits come alive in sports. The passion, the pain, the joy – it's all there to be photographed and treasured. Superstar moments, teamwork, wins and losses are all part of what makes every one of us unique.  These moments are great windows into our spirit and something that should be in every family album. Here's a peek into J-man's passion for soccer.  Not only is he one of the best goalies in his league, he is an amazing team leader.  During this event session I constantly saw him encouraging others, providing direction and keeping team spirits high. He's a rock star.
P.S. His team won! He saved at least 5 shots at goal.
Click here for more blog posts about youth sports photography. Don't miss these baseball images of my own son playing coach pitch ball. He thought he wanted to retire but seeing his own face on a baseball card made him think twice.
Abbe McCracken is a natural light, on-location portrait and lifestyle photographer serving Charlotte, NC and the surrounding areas of Matthews, Ballantyne, Weddington and beyond.  She specializes in family, newborn, child and event photography.  
CONTACT ME to book your session
FACEBOOK | INSTAGRAM | GOOGLE+ | TWITTER | PINTEREST