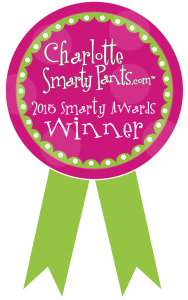 Another nod for best family photographer in Charlotte! I'm on cloud nine. Yesterday Charlotte Smarty Pants announced the 2015 Smarty Award winners and Abbe McCracken Photography won Charlotte's Best Family Photographer. This awesome surprise came only a month after Hulafrog South Charlotte named me Charlotte's Most Loved Family Photographer. I need to count my lucky stars and thank my amazing clients. You guys make me smile every.single.day with your support, your excitement, your enthusiasm, your cute families and yes, your pictures. Those adorable kiddos on my computer screen with big eyes, bold freckles, peek-a-boo dimples, joyful laughs, real smiles and even, shy smiles. Those images light up my days when my two crazies are at school. Thank you all for taking this awesome ride with me and letting me document your life. Thank you for taking time to tell others how much you loved it.
Be sure to check out the entire list of 2015 Smarty Award Winners. Several of my Charlotte favorites made the list so I'm in great company! Charlotte Smarty Pants provides the daily scoop for savvy Charlotte moms. It's a great resource for all things parenting from pregnancy to high school. Thank you again Charlotte Smarties for making me the area's best family photographer.
Click here to view my family photography portfolio or here for recent family sessions from the blog. Don't miss my children's gallery too. Lots of cuteness.
CONTACT ME today to schedule your 2015 session
---
Abbe McCracken is a portrait and lifestyle photographer serving Charlotte, NC and the surrounding areas of Matthews, Ballantyne, Weddington. She specializes in family, child and event photography. Abbe is a member of the National Association of Professional Child Photographers and is the 2015 winner of both Charlotte Smarty Pants' Best Family Photographer and Hulafrog South Charlotte's Most Loved Family Photographer.   
---